ROCK MECHANICS LABORATORY TESTS ACCORDING TO SN OR ASTM STANDARD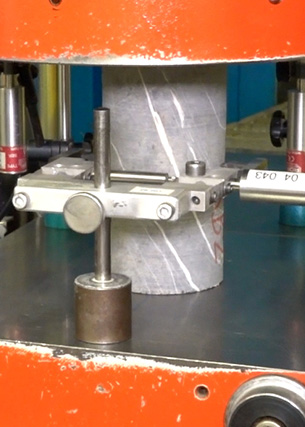 Uniaxial compressive strength
In the uniaxial compression test, a cylindrical specimen is loaded in the axial direction until it breaks. The specimen is loaded axially up to a stress level of 25 - 75 % of the expected fracture stress and then unloaded again.

Axial and circumferential strain transducers continuously record the changes. Various parameters can be determined from the loading and unloading loops. The Young's modulus describes the linear-elastic relationship between the applied pressure and the resulting deformation.
The Poisson's ratio results from the relationship between the longitudinal and transverse deformation.